Mission Statement
Produce wood toys to be given to the Marine Corp. Reserve unit located in Sedro Woolley. They provide these toys to the numerous charity organizations, churches, foster homes and other needy groups within Skagit, Whatcom, and northern Camano/ Island Counties. This area is the territory covered by our members. Since most NCWA members are mothers, fathers and grandparents there is a strong love for kids. Add the pleasure of woodworking, whether alone or with others from NCWA, to this equation and you can achieve real personal satisfaction and have a bunch of fun at the same time.
Participation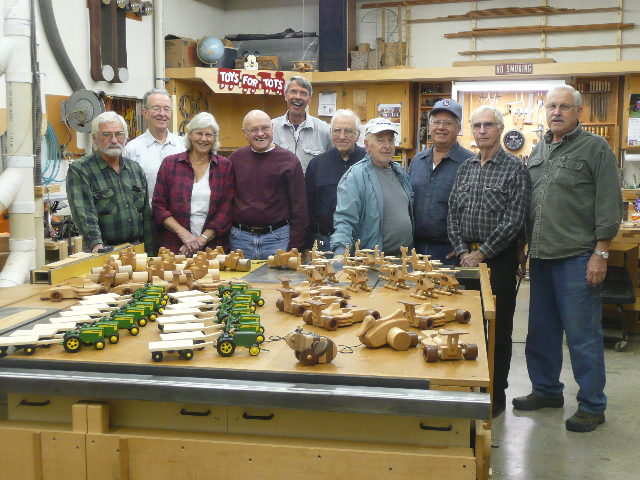 Every member of NCWA is not only welcome, but urged to actively support this project. A participant can make any toy deemed suitable and safe for a child that he/she wants to make. You can work alone, with a group of your local woodworking friends, or as a team member of a "Toys for Tots" committee organized group.
Skills/Tools Requirements
No great skills or tools are required unless you choose to work alone; then what you make is what you get. If that is a toy you are proud of and satisfied with you will certainly make a child happy. For those who question their skills and shortage of tools are encouraged to join a "Toys for Tots" committee organized group. The primary goal of Toys for Tots is to make toys for kids, but equally important is to aid our fellow members to advance their skills and enjoyment through wood working.
Toys for Tots Organized Groups
This is a new effort being designed to enable our new, less-experienced members improve their woodworking skills by making toys with guidance and support from team members. The teams will meet one Saturday per month throughout the year, probably excluding the three summer months and December. Members will have the freedom to come to any or all of the sessions, but would be encouraged to attend all sessions for your own learning experience.
Materials
Free wood (maple and alder) are available for all "Toys for Tots" activity. Other supplies are to be your responsibility.
Results
The goal is to make as many toys as the toy makers want to produce. All the toys will be on display at the November monthly meeting and then given to the Marines.